The production method of
7075 T6 T651 Aluminum rolled ring forging
In order to obtain
7075 T6 T651 Aluminum rolled ring forging
with excellent structure and performance and achieve precise rolling, the method includes the following steps: the alloy bar is heated and upset deformed by 50% ~ 55% to form a solid round cake, and then punched to make it The aperture size is 30% ~ 35% of its outer diameter and then it is made into a hollow round cake: the hollow round cake is heated and ring-rolled and deformed by 30% ~ 35% to obtain a rectangular pre-rolled billet; the pre-rolled billet is heated and loaded into the rolling ring The machine-rolled die is rolled and deformed by 45% to 50% in the special-shaped hole of the die and then formed into a special-shaped ring forging. When rolling, the above-mentioned pre-rolling, the radial width of the billet is 2mm/s ~ 15mm/s, and the radial rolling force is 20000kg ~ 120000kg.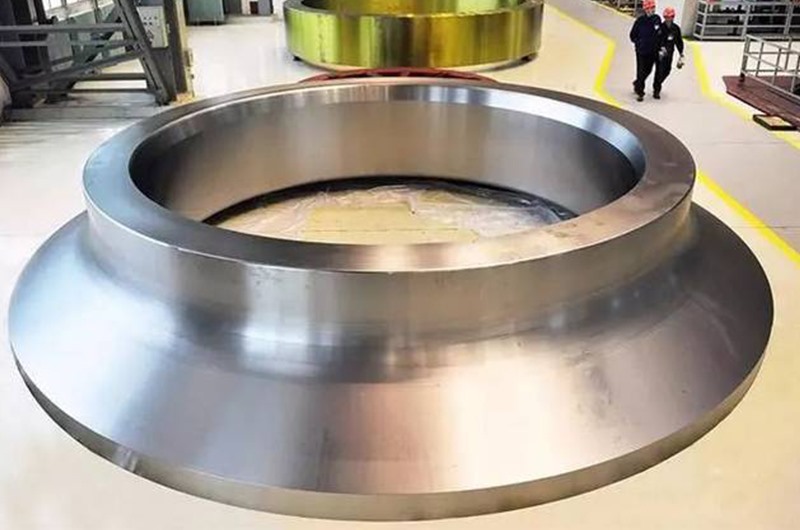 Chemical composition of
7075 T6 T651 Aluminum rolled ring forging
Silicon Si: 0.40
Iron Fe: 0.50
Copper Cu: 1.2-2.0
Manganese Mn: 0.30
Magnesium Mg: 2.1-2.9
Chromium Cr: 0.18-0.28
Zinc Zn: 5.1-6.1
Titanium: 0.20
Aluminum Al: margin
Others: Single: 0.05 Total: 0.15    
Application of
7075 T6 T651 Aluminum rolled ring forging
7075 T6 T651 Aluminum rolled ring forging
are mainly used for the production of airtight, aerospace, military, and industrial equipment sealing necessary fastening parts.