Introduction of
7055 aluminum alloy large forged components
At present, the 7055 aluminum alloy prepared by the novel spray forming process has not only fine grain, uniform chemical composition, no obvious macrosegregation in the microstructure, but also significantly improved tensile properties, fracture toughness and fatigue properties compared with the traditional semi-continuous casting process 7055 aluminum alloy. . However, due to its high alloy content, the injection-molded 7055 aluminum alloy is not only prone to cracks in the process of manufacturing large-sized components, but also the alloy properties are significantly degraded, and it is prone to severe deformation during subsequent machining.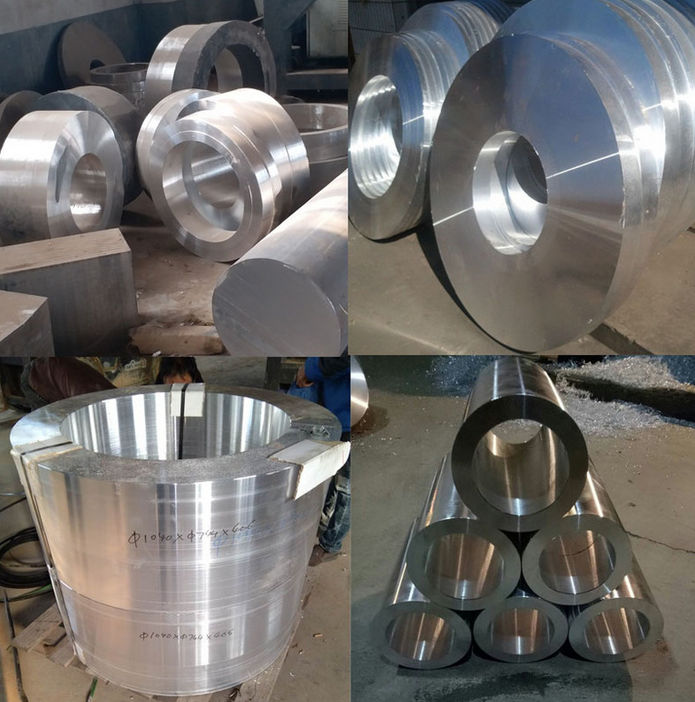 The manufacturing process of the
7055 aluminum alloy large forged components
is as follows: the ingot is first forged, then heat-treated, and then roughed and finished, and finally the parts are obtained. Generally, in order to obtain large-sized components with excellent performance, the forging process, the heat treatment process, and the machining process are separately optimized, but it is still difficult to fully exert the advantages of the performance of the spray-formed 7055 aluminum alloy material. However, with a new manufacturing method, spray-molded 7055 aluminum alloy can produce large-sized members with excellent performance and stable quality.  
7055 aluminum alloy large forged components
chemical composition:
Si: 0.1
Fe: 0.15
Cu: 2.0-2.6
Mn: 0.05
Mg: 1.8-2.3
Cr: 0.4
Zn: 5.39
Ti: 0.06
Zr: 0.08-0.25
Al: balance  
7055 aluminum alloy large forged components
application:
7055 aluminum alloy large forged components
are mainly used in the aerospace field.